Commercial Bicycle Rack Systems
On-site bicycle storage is a high-impact, low-cost way to set your apartment or office building apart in the marketplace and increase the overall value of your project.
In addition to the "behind the walls" products we've specialized in for the last twenty years — trash and linen chutes and waste management — we also offer a number of "front of the house" amenities that help differentiate your commercial property and attract potential tenants.
This includes a full line of bike racks, bike shelters, bike lockers, and accessories from Dero, a company known for their American-made craftsmanship, sustainable practices, and excellent customer service.
Easily Configurable for Any Space
No matter the size or layout of your space, we'll help configure the most functional  bike storage solution to meet the unique demands of your project. Our stylish, functional rack designs and rooms make your space unique and personalized. There are several innovative options to add to your bike rooms as well, such as repair stations and air pumps.
We configure and install commercial bike storage racks from Dero, the self-described "Bike Parking Nerds" behind the most innovative, high-quality, and functional bike parking and public bike repair solutions in America.
Popular Bike Storage Solutions
Below are a few of our most popular products, including links to more information.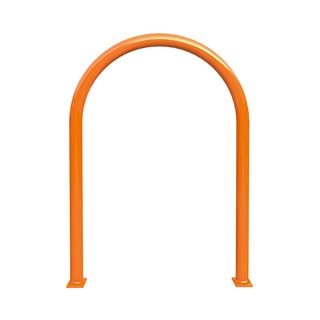 Hoop Bike Rack
An attractive and functional bike rack. Fits 2 bikes.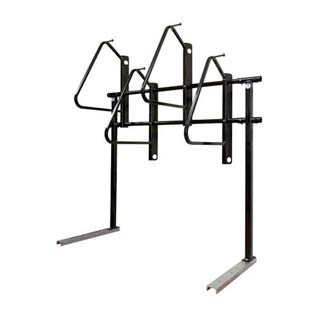 Ultra Space Saver Bike Rack
Vertical bike parking that maximizes space efficiency.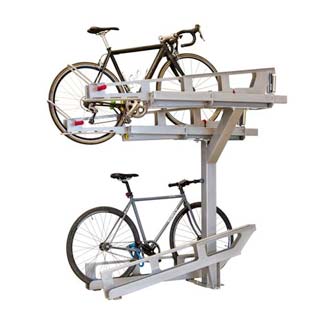 Dero Decker Bike Rack
Two-tiered bike parking that requires minimal lifting.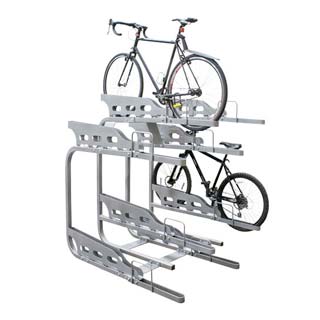 Dero Duplex Bike Rack
Staggered design so bikes enter and exit easily without entanglement.
Fixit Bike Repair Station
All the tools necessary to perform basic bike repairs and maintenance.
Air Kit Public Bike Pump
Robust bike pump featuring waterproof PSI gauge and steel-reinforced air hose.
Vertical bike racks help make the most of every square inch.
This diagram illustrates the approximate amount of space used by average-sized bikes in a typical apartment or office building bike storage room. Tell us what you're working with and we'll draw up a custom plan to meet your specific space and usage requirements. Just click the button below to contact us.